Wildfire Smoke and Animals: How to Keep Your Pets Safe
Learn about the risks to pets during wildfires and how to protect them from wildfire smoke and create an evacuation plan to provide shelter from the experts at the WFCA.
When wildfire threatens a community, humans are able to mitigate their own risk of smoke exposure and prepare for evacuation. Pets, however, do not understand. They need you to protect them from wildfire dangers. Studies of the effect of wildfire smoke on humans and animals show respiratory symptoms and a decrease in lung function.1 Learn ways to keep your pets safe from the health risks of smoke exposure and how to incorporate pets into your evacuation planning.
What to Look For: Signs of Smoke Irritation in Your Pets
Wildfire smoke is harmful to respiratory and cardiovascular health. Young and old pets are particularly at risk, as are pet breeds of cat or dog that are brachycephalic.2 If your pets have been exposed to wildfire smoke, watch carefully for the following symptoms:3
Itching, burning, irritated eyes (this could include excessively watery eyes or your pet scratching at their face)
Coughing, wheezing, and gagging
Shortness of breath, increased breathing rate, panting or open-mouth breathing, noisy breathing, or difficulty breathing
Inflamed throat or mouth
Nasal discharge
Fatigue or weakness
Staggering or disorientation
Reduced appetite or thirst
If a pet is having difficulty breathing or eye irritation, seems disoriented, or has reduced appetite or thirst, consult your veterinarian.3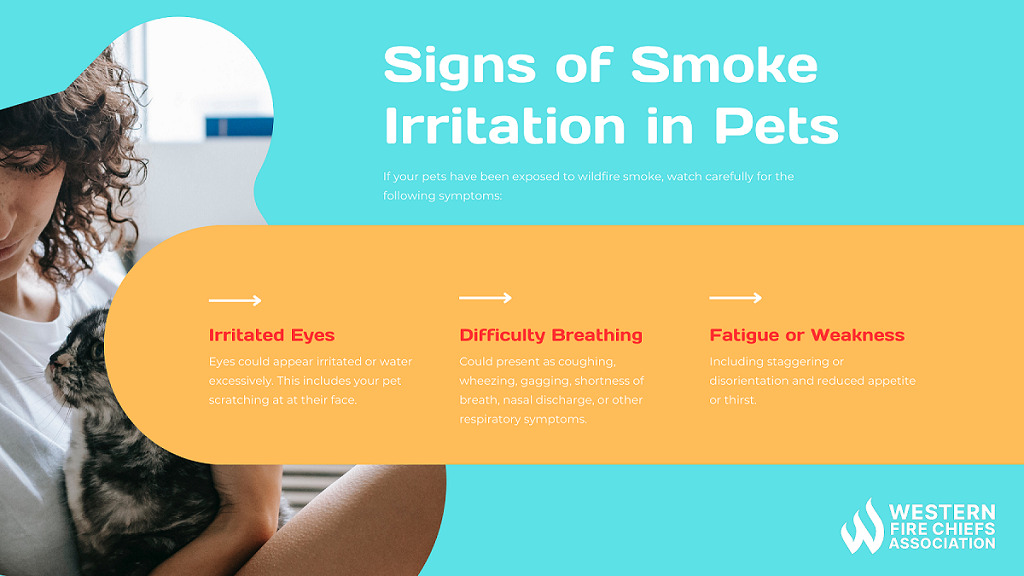 Tips For Keeping Your Pets Safe from Wildfire Smoke
Wildfire smoke is full of particle pollutants, which are a mix of microscopic particles small enough to hang in the air. These particles can enter the lungs or even the bloodstream, posing a major health threat.4 Fires and smoldering embers also release carbon monoxide (CO). When inhaled, this colorless, odorless gas reduces oxygen delivery in the body. In high concentrations, CO can lead to death as the body fails to absorb enough oxygen.5
Avoiding smoke is the only way to avoid wildfire smoke exposure. There are several things you can do to protect your health and your pets' health if you live in a wildfire-prone area.
If you have not been advised to evacuate the area, stay inside with the windows and doors closed and keep your pets indoors as much as possible.
Avoid intense outdoor exercise until after dust and smoke has settled.
Use high-efficiency filters in your air conditioning unit to capture fine particles in the air. Be careful to choose a unit that does not create ozone (another harmful air pollutant). If you do not have AC, a portable air filter is a good alternative to help clean indoor air.
Pay attention to local air quality reports and the air quality outside your house. If it looks or smells smoky outside, keep your pets inside and avoid activities that will compromise your home's air quality, such as frying food or vacuuming.
Preparing Your Pets for Evacuation
It is important to be aware of active emergencies in your area and prepare to evacuate if necessary. Gather resources ahead of time in case you need to leave your home quickly. Before an emergency, make sure to do the following:
Have vet contact info.
Keep copies of your animal's vaccination records and health records, including health problems, medications, and behavior concerns.
Have ID info (proof of ownership) in case you get separated from your pet.
Consider microchipping your pet if that is an option for the type of animal you own. A microchip allows vets or shelters to scan your pet and access your contact information. Keep your pet's microchip registration up to date, including your phone number and address.3
Put a collar on your pet that includes your contact information.
Have a recent picture of your pet in case your animal is lost.
Pack a Pet Evacuation Kit
Pets are a part of your family, so remember to include your animals in your evacuation planning. Make a plan for staying with family, at a shelter, or a pet-friendly hotel. You should also prepare an evacuation kit that includes items to address your pet's basic needs, medical issues, safety, and stress.2 Consider including the following items:
Bottled drinking water
Two weeks of pet food in waterproof containers or cans that can be opened without a can opener
Food and water bowls
Medications and other health supplies (this may include flea or tick medication)
Poop bags and other cleaning supplies
A favorite toy or familiar bedding
Stress-reduction tools or medications
Sources
Related Articles