What To Do After A Wildfire
Evacuating from a fire can be overwhelming and stressful. Learn what to do after a wildfire with expert guidance from the Western Fire Chiefs Association (WFCA).
If a wildfire has recently passed through or near your home, or if you are preparing in case one does, this article will teach you what to do in the aftermath.
This is not a subject to take lightly. The destruction that a fire wreaks can still be dangerous to your health and well-being long after the flames have been extinguished. That is why it is essential to know and follow proper procedures when it is safe to return to, inspect, and inventory your property. We explain how to do just that in the sections below.
Before You Return Home
Before you return to your property after a fire, you must check with the authorities.
These may include your local fire department, your state's forestry, and fire department, or the US Forest Service.
They will let you know if the air quality in the area where your home is located is safe to breathe and if the fire danger has passed. In addition, the authorities need to ensure that any fallen electrical lines, gas leaks, or dangerous trees are mitigated before residents return.
Keep checking back with them until they tell you it is safe to return to your property.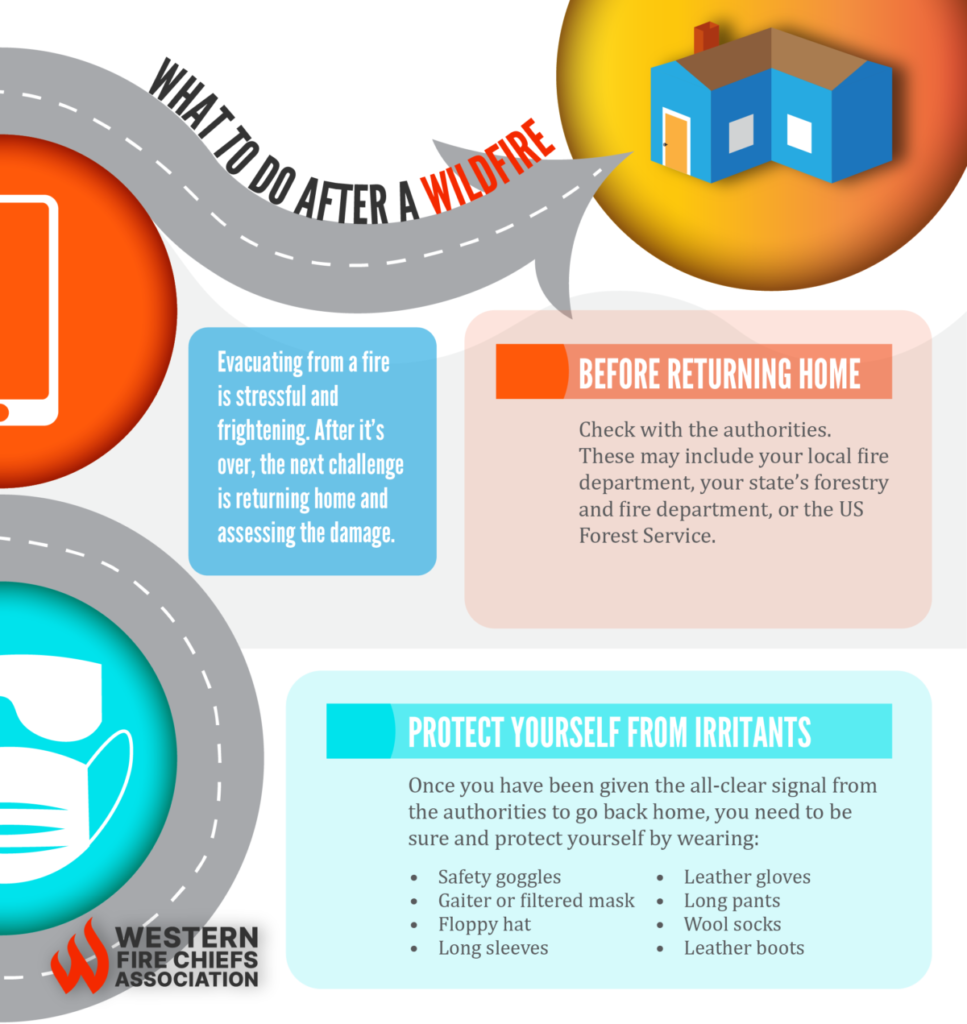 Protecting Yourself from Irritants
Once you have been given the all-clear signal from the authorities to go back home, you must be sure to protect yourself from irritants.
Irritants that are left over from a wildfire include ash and smoke. Despite the fact that your property is now considered "safe," these elements may still linger, especially if any structures were burned down or partially damaged.
Below is a list of clothes and accessories to wear that will provide you with maximum protection, particularly for your eyes, nose, and throat. These are the same accouterments we recommend you wear to keep you safe while you evacuate from a wildfire.1
Safety goggles
Gaiter or filtered mask
Floppy hat
Long sleeves
Leather gloves
Long pants
Wool socks
Leather boots
Mind Your Safety
Here are some things to check for and keep in mind as you drive to your property and start inspecting the land and structures.
If possible, do not go alone. Take another trusted, able-bodied adult with you.
Go in the daylight, never at night.
Drive safely. Stick to the speed limit posted and keep an eye out for caution signs, traffic cones, and local police or firefighters.
Check for downed telephone poles and wires.
Do not park your vehicle close to structures on your property that have been burned or destroyed.
Do not park your vehicle under any trees that have been burned.
Remember, your safety is the most important thing to worry about. Do not take any unnecessary risks.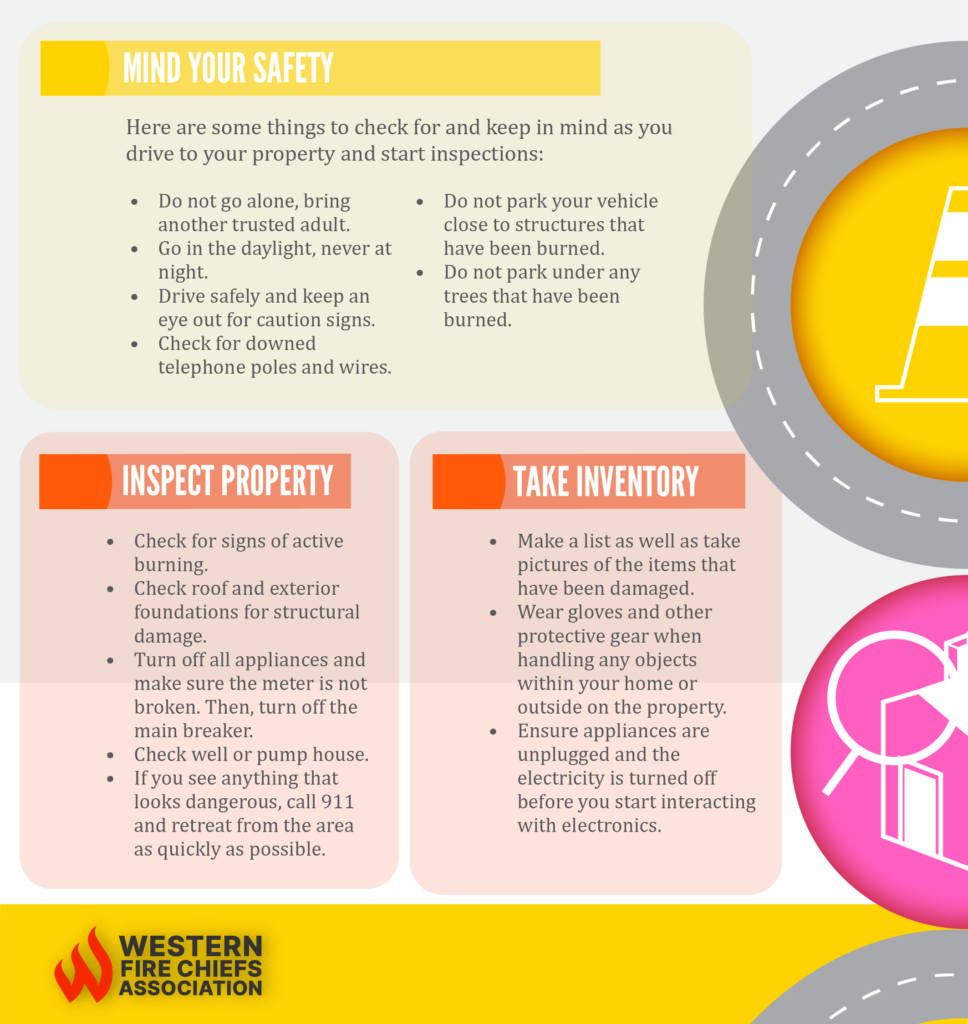 Inspect Your Property
Once you have arrived and parked your vehicle a safe distance away from the structures on your property, inspect the damage. Be sure to follow these steps, as recommended by the California Department of Forestry and Fire Protection (CAL FIRE).2
Check the grounds for sparks, embers, hot spots, or any sources of smoke.
Check your roof and the exterior foundations of your house for embers or structural damage.
Check your attic and the rest of your home for embers and structural damage.
Turn off all your appliances and make sure the meter is not broken. Then, turn off the main breaker to shut off electricity to the whole house.
Check your well or pump house to ensure it is still working.
If you see anything that looks dangerous, call 911 and retreat from the area as quickly as possible.
Take Inventory and Document Belongings
The last step in your process of returning home after a wildfire is to take inventory of your belongings for insurance purposes.
Make a list as well as take pictures of the items that have been damaged.
Wear your gloves and other protective gear when handling any objects within your home or outside on the property. They could still be hot from the fire or covered in toxins or irritants like ash.
Make sure all your appliances are unplugged and the electricity is turned off before you start interacting with electronics.
Sources
Related Articles