Wildfire Risk Index Explained
FEMA has developed a wildfire risk index to help assess wildfire risk by area of the country. Learn about this index with expert guidance from the WFCA.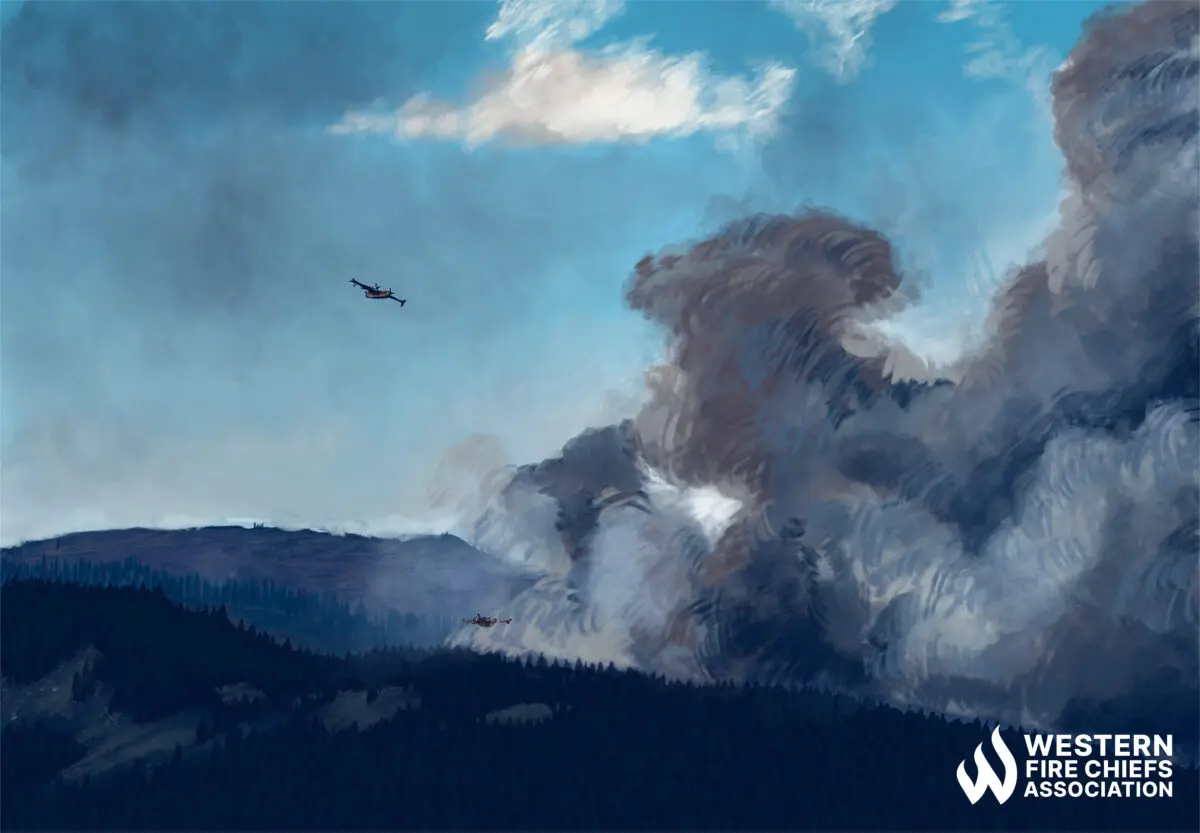 Wildfire is a growing risk to more and more communities throughout the United States. Before you start planning for a wildfire event, it can be helpful to check how likely it is that you will experience this type of natural disaster in your area. Fortunately, there are reliable, interactive assessment tools to help you determine your wildfire risk score, including the National Risk Index developed by the Federal Emergency Management Agency (FEMA).
What is the National Risk Index?
Starting in 2016, FEMA partnered with academic, government, and private industries to create the National Risk Index. This dataset, published in November 2021, analyzes counties and census tracts for all 50 states and Washington, D.C., and assigns them a risk score for 18 natural hazards: avalanches, coastal and river floods, drought, earthquakes, hail, heat and cold waves, hurricanes, ice storms, landslides, lightning, strong winds, tornados, tsunamis, volcanic activity, wildfires, and winter weather.1
The dataset is available as an interactive map that shows each community's natural hazard risk. The National Risk Index score of a community is color-coded and designated Very High, Relatively High, Relatively Moderate, Relatively Low, or Very Low.2 You can sort the hazards to review a single hazard and the risk it poses in communities throughout the U.S., such as wildfire risk. Additionally, you can also zoom in to view county or census tract risk scores in an area.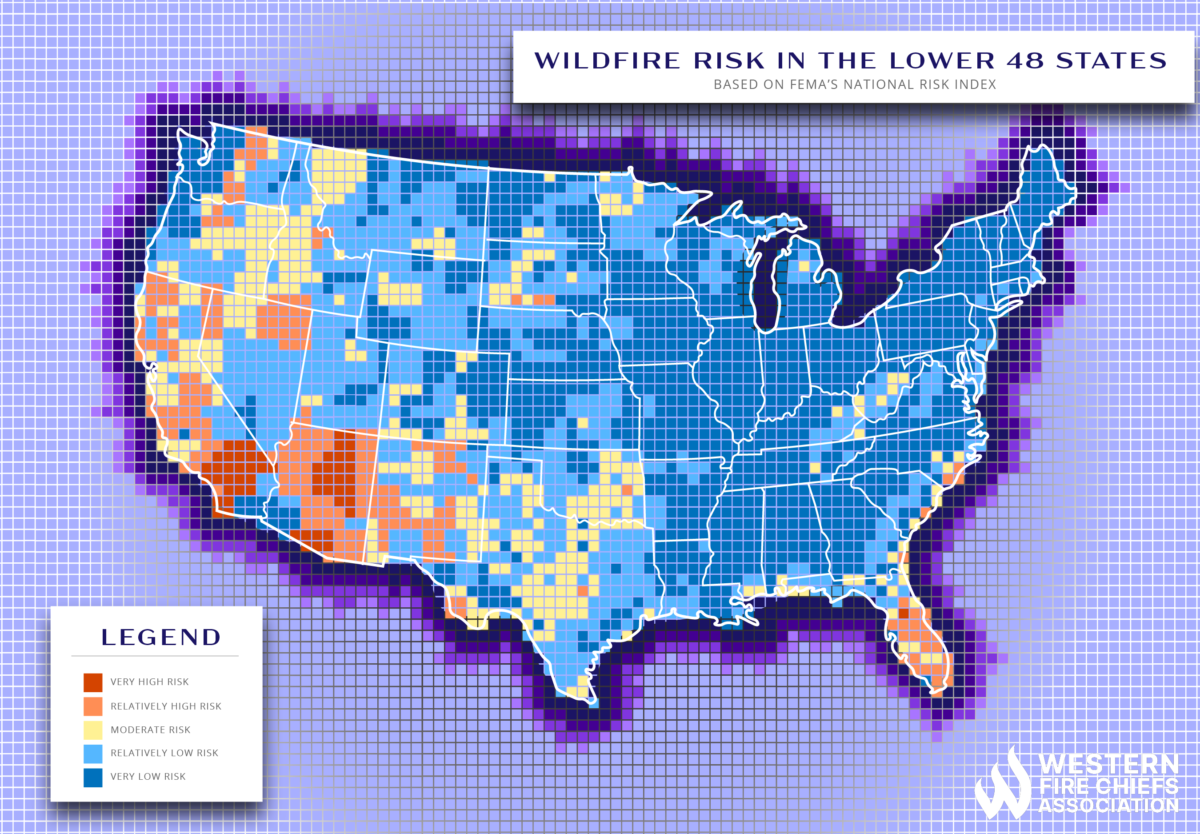 What Factors are Considered in the Risk Index?
As a part of the National Risk Index, FEMA examines expected annual losses in a community, social vulnerability, and community resilience. High expected annual losses, high social vulnerability, and low community resilience increase the overall risk score in an area. 2 There are also specific risk factors considered for each of the 18 hazards that are a part of this index.
The National Wildfire Risk Index compares an area's relative wildfire risk to that of the entire U.S. When assigning a community's Wildfire Risk Index score, FEMA considers three factors: exposure, frequency, and historic loss ratio.
Wildfire exposure quantifies a community's building value (in USD) and population (both the number of people and the population density) who are at risk of experiencing a wildfire.
Wildfire annualized frequency estimates the number of wildfires that will take place in the community per year.
The wildfire historic loss ratio projects the percentage of buildings or population that is expected to be lost in a wildfire.
Other Online Tools to Assess Risk
Beyond FEMA's broad national tool, there are other online tools and datasets that can assess risk, and some tools have been specifically designed to examine property-specific wildfire risk. The purposes of these tools vary, and their intended audiences range from government agencies, nonprofit groups, and community task forces to insurance groups and individuals.
Wildfire Risk to Communities
A dataset generated from data provided by Headwaters Economics and the Fire Modeling Institute of the Rocky Mountain Research Station, USDA Forest Service, addresses wildfire risk throughout the 50 states. It includes data for counties, communities, and tribal areas. The dataset is hosted by the Wildfire Risk to Communities project team and is available as a list, downloadable tables, and geographical information system (GIS) files.
Furthermore, the GIS map files have seven data layers for populated areas that address housing and population density risk factors. It has eight layers of risk assessment data for all lands, including risk to potential structures, wildfire likelihood, what types of fire a structure might be exposed to, and a range of data maps considering the probability of different wildfire intensities.3 The dataset is intended for nonprofits and local communities interested in applying for grant funding to assist at-risk communities with wildfire mitigation and defense projects.4
Risk Factor
A free online modeling tool called Risk Factor is another resource for individuals. It provides flood, wildfire, and heat wave risk by property address, zip code, city, or county. First Street Foundation, a climate, and technology nonprofit host the searchable risk factor assessment resource. The tool assesses past, present, and future risk for areas within the 48 conterminous United States and the U.S. territory of Puerto Rico, based on 10 years of weather data from the National Oceanic and Atmospheric Administration.5
You can assess the wildfire risk for an area and project the risk for the next 30 years with First Street Foundation's climate projected data. With the data, First Street intends to inform individual homeowners about their current and potential future risk for wildfire damage.6 The tool also suggests wildfire mitigation practices you can take to protect your home.
Sources
Related Article