Learn how you can help prevent human-caused wildfires with these strategies, best practices and resources from the Western Fire Chiefs Association (WFCA).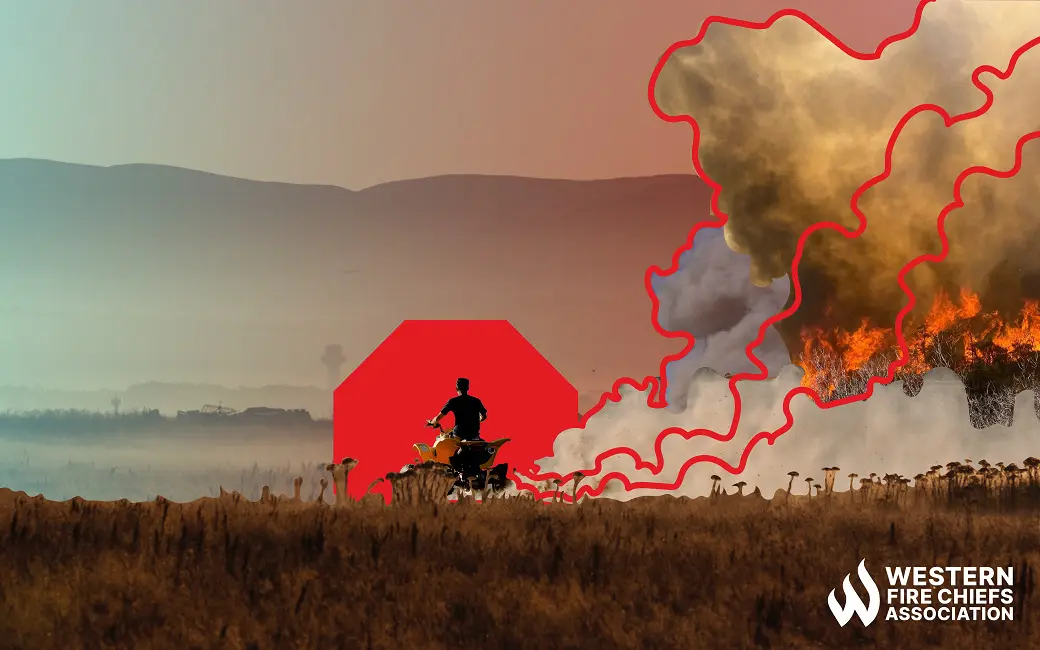 Visiting national parks and other wild areas is a wonderful vacation opportunity, and a great way to explore and enjoy the beauty of nature. It is important to be aware of your impact when you visit natural areas, and how you can experience nature without causing harm.
Nationally, humans cause 87% of all annual wildfires.1 Modern firefighting techniques incorporate intentional prescribed burns, which clear debris from the landscape and contribute to sustainable ecosystems.2 However, wildfires are unplanned events and are extremely dangerous. These fires can have a devastating effect on wildlands and the surrounding areas.
Attention, awareness, and caution are the most important habits to exercise when you are around fire. Here are seven more ways you can practice wildfire prevention:
Be Aware of Weather and Drought Conditions
Hot, dry, windy weather is the most dangerous time for wildfires to start, especially if dry conditions have persisted over a long period. Often times, dangerous fire conditions will result in fire restrictions for the area. You can check local fire restrictions online by searching "current fire restrictions [your state]."
If you are traveling, be aware of weather conditions along the way and at your destination. When planning any fire-related activities—including building a campfire, off-roading in dry grass, or operating machinery—ensure you are following local fire restrictions and are paying attention to the weather.3
Know How to Manage a Campfire Safely
Some states require campfire permits, and areas may still have restrictions on campfires and portable stoves during periods when there is a high risk of fire.4 There are several safety steps you can take when building a campfire in an open area:
Clear at least 10 feet around the area where you plan to start the fire
Ensure the fire is blocked in with rocks or a metal campfire ring (installed at many popular campsites) to keep it from spreading
Never leave a campfire unattended
Make sure you put your campfire out completely before heading to bed by dousing it with water, stirring the charcoal and embers, and dousing it again5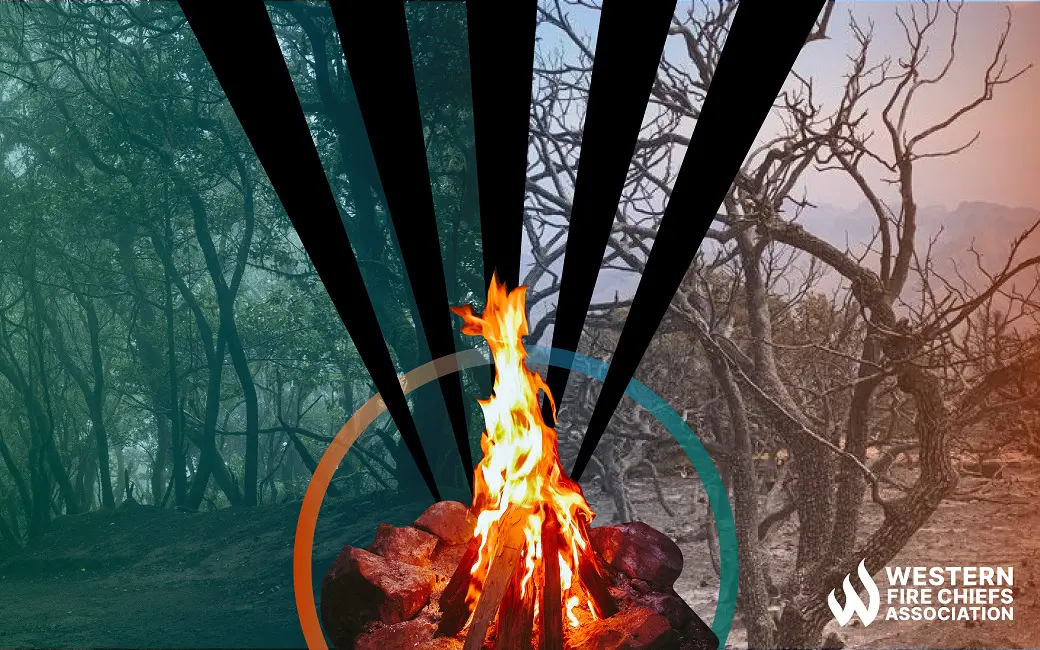 Carry Tools to Put Out Fires
Having water on hand is essential to help put out small fires before they can grow into wildfires. A shovel, bucket, and fire extinguisher are also great resources to control fire. Shovels can help break up flammable materials in fires. Burying fires in sand or dirt helps extinguish and cool the embers.
There are a variety of fire extinguishers that are appropriate to use on a range of fires, from putting out ordinary combustible materials to extinguishing cooking oil fires.6 Consider the tools you operate in wildfire areas as you choose an appropriate fire extinguisher, and be trained and prepared to use the fire extinguisher if necessary.
Observe Caution Around Dry Vegetation
Keep a 10-foot area around you clear if you are operating machinery that puts off sparks. Remove dry grass and leaf litter or other flammable material from the area. Make sure to clear an even larger area around you if the day is dry and windy.
Take care when driving off-road in dry areas; exhaust temperatures from your car's tailpipe can reach temperatures over 1,000 degrees Fahrenheit.7 Avoid parking or driving in dry grass to limit the exposure to heat.
Maintain Your Vehicle
It is important to maintain your vehicle and ensure it is off-road ready before taking a trip into wildland. Check for gasoline or oil leaks, and make sure none spills on grass or other vegetation. Consider installing a spark arrester to ensure no burning fragments shoot out of the exhaust pipe.8 Tractors and off-road vehicles are required to have spark arresters.
Dragging pieces under vehicles and trailers or grinding car parts can also start fires. For example, dragging tow chains can spark fires along highways, and low or damaged tires can lead to wheel rims throwing off sparks when they make contact with the road.9 Ensure your vehicle's bearings and axels are greased, the brakes are properly padded and maintained, and there is nothing hanging down under your vehicle or trailer.10
Be Aware of Cigarette and Vape Fire Risks
While most fires caused by cigarettes happen at home, the effect of a dropped cigarette or the battery failure from an e-cigarette or vape cartridge can be devastating during wildfire season.11 Never throw cigarettes on the ground. Instead, make sure to discard cigarettes in a container that will not burn or melt, and fill the container with sand. Consider using fire-safe cigarettes, which have special paper that slows the burn of a cigarette when it is not being used.
While e-cigarette battery explosions are not common, the effects are extremely dangerous to users and the environment. Take care to protect the batteries from getting wet, damaged, or exposed to extreme temperatures—replace them if this happens. Loose batteries should be stored in a case and away from metal. Do not charge an e-cigarette overnight or with a charger that was not designed specifically to charge e-cigarette batteries.12
Keep an Eye on Fireworks
Make sure that you are supervising any fireworks, including sparklers and firecrackers. Children should never be left unsupervised around flames or fireworks. Watch out for windy weather and consider wetting down the area where you will be setting off fireworks, focusing on dampening grass and vegetation if the weather has been dry.13 Keep a bucket of water, a working garden hose, or a fire extinguisher nearby and use water to completely extinguish used fireworks.
Additional Wildfire Prevention Resources
Fire is an essential part of land management when implemented with care and planning. Professional firefighters coordinate prescribed fires to lower the danger in wild areas. You can help these professionals do their work to protect the environment by ensuring preventable wildfires do not start on your watch.
Sources
National Interagency Fire Center, "Fire Prevention, Education and Mitigation." Accessed December 20, 2022.
National Park Service, "Types of Wildland Fire." Accessed December 14, 2022.
U.S. Department of the Interior, "10 Tips to Prevent Wildfires." Accessed December 20, 2022.
Cal Fire, "Campfire Safety." Accessed December 20, 2022.
U.S. Department of the Interior, "10 Tips to Prevent Wildfires." Accessed December 20, 2022.
National Fire Protection Association, "Fire Extinguisher Ratings." Accessed December 21, 2022.
U.S. Department of the Interior, "10 Tips to Prevent Wildfires." Accessed December 20, 2022.
National Wildfire Coordinating Group, "Spark Arrester." Accessed December 20, 2022.
Cal Fire, "Practicing Vehicle Safety." Accessed December 20, 2022.
U.S. Department of the Interior, "10 Tips to Prevent Wildfires." Accessed December 20, 2022.
National Park Service, "Fire Prevention 52: Cigarette Butts." Accessed December 21, 2022.
U.S. Fire Administration, "Fire Safety Outreach Materials." Accessed December 21, 2022.
American Red Cross, "How to Prevent Wildfires." Accessed December 20, 2022.
Related Article