How to Create a Firewise® Defensible Space for Your Home
Published:July 5, 2022
Edited:November 8, 2023
Learn how to create a Firewise® defensible space with guidance and best practices from the Western Fire Chiefs Association (WFCA).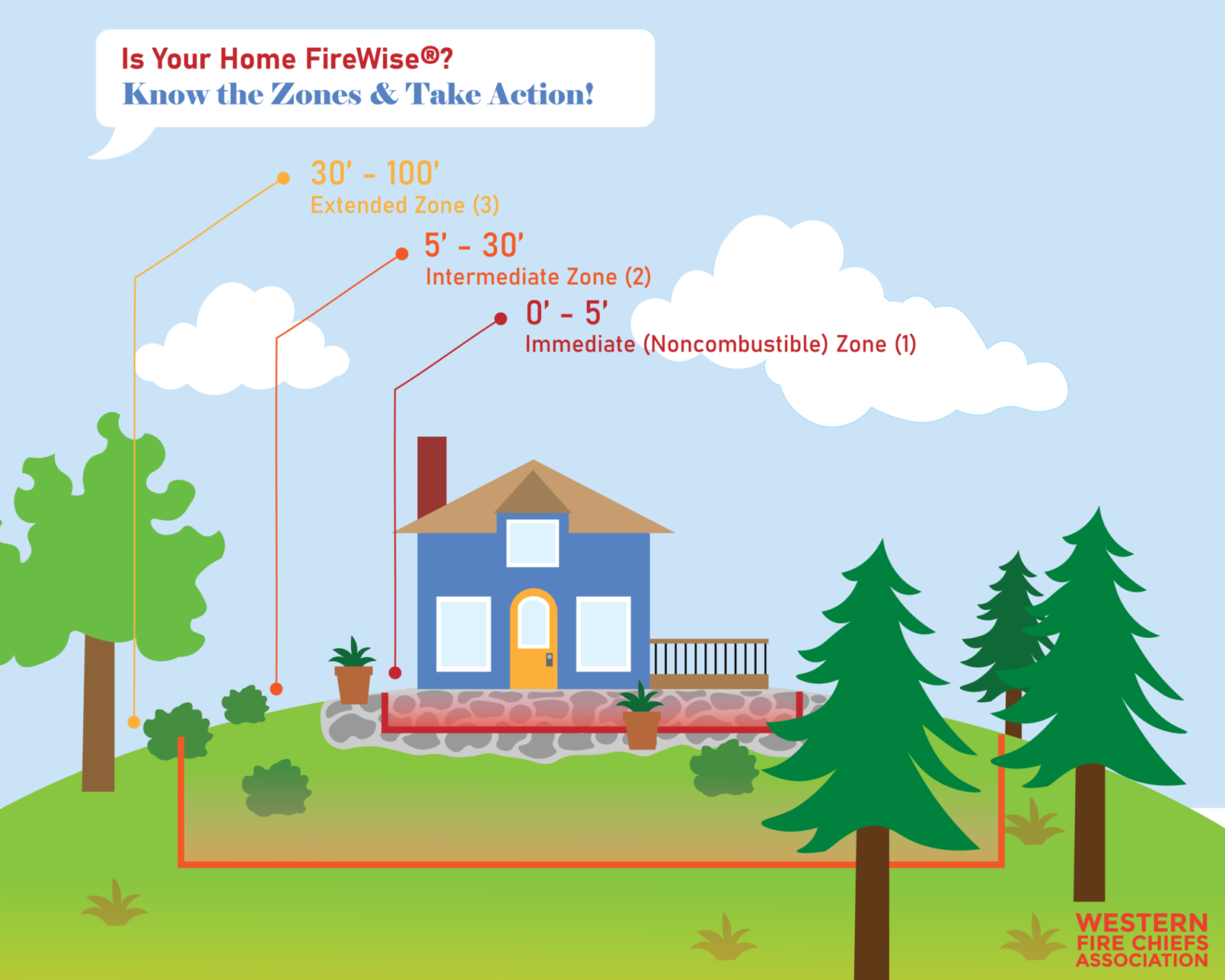 What is Firewise®?
Firewise USA® is a national program designed to provide communities and neighborhoods with a collaborative framework to help reduce wildfire risk. The Firewise® defensible space framework helps to bring communities together to create and implement local plans to protect their homes against the risk of wildfire, therefore reducing the likelihood of damage and loss if wildfires do occur in the area.
The program has a set of specific criteria for communities to follow to maximize their home's resistance to structural damage caused during a wildfire event. To become recognized by the Firewise® USA program, the community must meet a set of voluntary criteria on an annual basis.
What is a Firewise® Defensible Space?
A Firewise® defensible space is any natural and/or landscaped area around a home or structure designed to improve the home's chance of surviving a wildfire. In particular, defensible spaces act as a buffer between the home or outbuildings and any trees, grass, or shrubs that surround it, slowing the spread of wildfire.
Creating a defensible space around your property, often referred to as firescaping, could mean the difference between firefighters being able to save your home or not. Firstly, it aims to remove pathways for a wildfire to burn into a home. Second, it reduces radiant heat exposures and reduces the potential for embers to ignite vegetation or combustible materials near the home. Finally, it provides firefighters with a safe zone to work from.
Firewise® Defensible Space Zones
To prepare your home for wildfire and create defensible space, it's recommended to use the Home Ignition Zone (HIZ) concept. The HIZ is divided into three distinct zones that extend to 100 feet around the home.
Zone 1: Immediate (Noncombustible) Zone
1-5 feet from your home
The Immediate Zone represents everything within the five feet closest to your home. This may include plants, decks, outdoor furniture, and outside walls. Zone 1 is the most vulnerable. Therefore, it should be rigorously maintained for fire resistance.
Landscaping Considerations
Use non-flammable, hard surface ground materials in this area such as rock, gravel, sand or concrete.
Regularly remove and dispose of all flammable vegetation. Including dead leaves, mulch, pine needles and other woody debris from the ground, roof, deck and gutters.
Prune any overhanging tree branches and remove any fuels within 10 feet of the chimney.
This area should be completely free of combustibles – including firewood.
Do not store anything under decks.
Zone 2: Intermediate Zone
5-30 feet from your home
This zone is designed to offer an encroaching fire as little fuel as possible to minimize its intensity. It is important to restrict fuel for a fire as it approaches your home because it the likelihood of igniting a structure from radiant heat.
Landscaping Considerations
Keep any grasses less than 4 inches long.
Remove any excess vegetation.
Remove highly flammable plants such as juniper. Replace them with high moisture plants that grow close to the ground and have a low sap or resin content.
Trees should be no closer than 30 feet to the home.
Trim branches up to 6-10 feet from the ground and at least 10 feet from structures.
Maintain a 10-foot distance between tree crowns
Zone 3: Extended Zone
30-100 feet from your home
This is the area furthest from your home. The objective here is to keep the fire on the ground where it will be less intense. In many cases, a distance of 100 feet will extend past the property line. If that is the case for you, work with neighbors to create an appropriate defensible space.
Landscaping Considerations
Be wary of ladder fuels. Similar to the steps on a ladder, fire can spread upwards through the distinct levels (or rungs) of vegetation. Keep various levels of forest vegetation separated to prohibit fire from spreading upwards. As a guideline, a shrub under a tree would need a spacing of 6 feet to the lowest limbs of the tree.
Consider creating openings or meadows between groups of trees.
Seasonal considerations
Winter is often the best time to complete 'heavy duty' fire preparedness tasks, such as thinning out dense patches of trees, removing flammable brush and weeds, and pruning the limbs of mature trees up to at least 10 feet above the ground.
While winter is considered the best time to do many tasks – you can also take steps to defend against fire year-round. Maintenance tasks such as clearing flammable debris from the gutters and around the home, making sure there are no flammable materials like firewood or patio furniture near your structures, and keeping grass and weeds mowed to less than 4 inches, are all things you can do to keep your home protected.
Sources
National Fire Protection Agency, "Firewise USA®." Accessed June 30, 2022.