New Mexico Fire Season: In-Depth Guide
Published:June 20, 2023
Edited:November 3, 2023
Explore details regarding the New Mexico fire season from the Western Fire Chiefs Association (WFCA). Learn when is it, how long it lasts, risk factors and more.
The ecosystems in New Mexico encompass alpine terrain (including the Rocky Mountain foothills), deserts and basins, grass and scrubland, plains and mesas, and riverbank habitats along the Rio Grande and other rivers.1 Droughts and rising average temperatures are deeply affecting these ecosystems and increasing the intensity and frequency of wildfires throughout the state. Learn about the wildfire risks that New Mexico residents face, as well as steps to help mitigate future risks.
When is New Mexico fire season?
Peak fire season in New Mexico begins in early May and runs through June, until monsoon season begins. However, according to the New Mexico Forestry Division, the state is now experiencing fire danger throughout the year due to climate change.2
Risk Factors for Wildfires in New Mexico
Drought
Unlike much of the U.S., New Mexico has not seen increased intense precipitation over the past few years, and the annual precipitation levels vary widely.3 As rising average temperatures in the state evaporate water in streams, vegetation, and soil, this will increase drought severity. Droughts cause greater risk, frequency, and intensity of wildfires.
Weather
The North American Monsoon begins in late June, with heavy rain falling in New Mexico during July and August until September. In some regions of New Mexico, monsoon rainfall delivers half of the annual precipitation.3 Unfortunately, monsoon rainfall levels are unpredictable, varying significantly from year to year. The amount of precipitation affects wildfire risk throughout the state and can increase the danger of flooding and post-fire debris flows.4
New Mexico is also prone to high winds, and these winds may continue to grow with jet stream disruption from climate change.5 Intense winds contribute to drought conditions, drying out the air and vegetation. Additionally, high winds spread wildfire faster and further.2
Fuel
The unique plant life and grasslands of New Mexico contribute to the state's wildfire risk. Different parts of the state have different types of fuels, including fine fuels, which dry out very quickly and easily ignite into wildfires. The grasslands on the eastern part of the state are particularly at risk of fire during droughts for this reason.2
Human Activity
Nearly 90% of wildfires are started by humans.6 A recent series of wildfires in New Mexico spread because of prescribed burns that either grew out of control or were not fully extinguished.4 To reduce the risk of wildfire threatening homes, the New Mexico Energy, Minerals and Natural Resources Department's Forestry Division advises New Mexico residents to build out the defensible space around their home and explore fire-resistant native plants for landscaping.7 New Mexico residents should also follow fire restrictions, monitor any fire until it is completely out, keep fire extinguishing tools at hand, and responsibly dispose of smoking materials such as matches, lighters, and cigarette butts.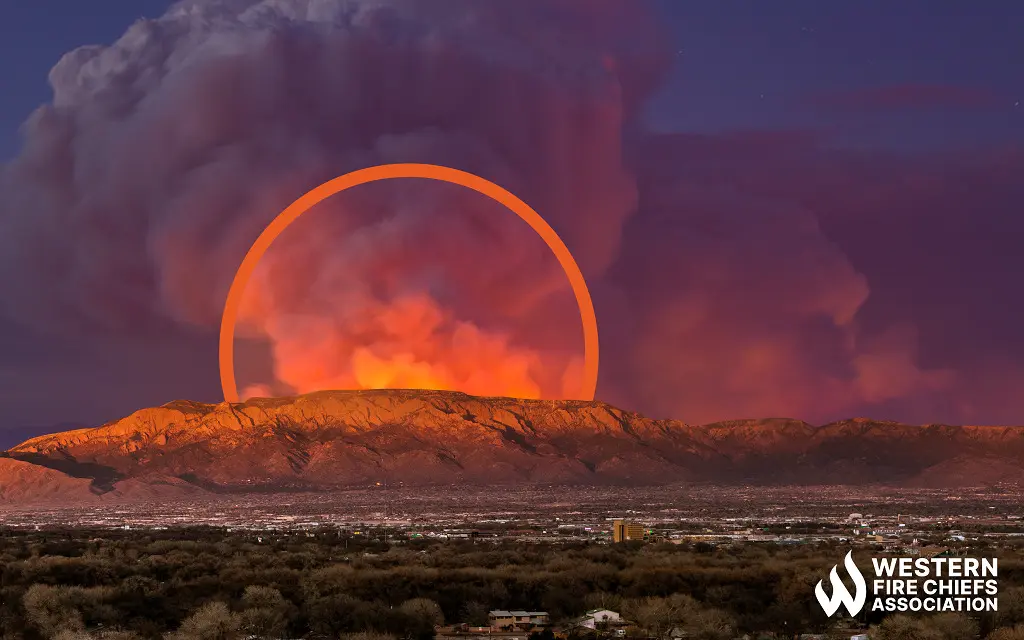 How Wildfire Season in New Mexico is Changing
Overgrazing and logging in the late 1800s, as well as a century of strict fire suppression, severely affected the natural systems in New Mexico and led to growing wildfire intensity throughout the state. Scientists expect New Mexico's forests to deteriorate throughout the next few decades, turning into shrubland as wildfires consume the trees.8
Rising temperatures will affect water management practices in New Mexico as well. Water is stored in northern New Mexico's mountains as snowpack during the winter, then melts in spring to feed reservoirs and river basins throughout the summer. Increased annual temperatures will reduce snowpack levels and shorten snowmelt season.3 Less available water resources will increase drought and wildfire severity in the state.
Recent New Mexico Wildfires
Megafires are growing more common in New Mexico. The biggest fire in the state's history was the Calf Canyon/Hermits Peak Fire, which started in 2022 during a drought. A prescribed burn by the U.S. Forest Service got out of control as the Hermits Peak fire, then merged with the Calf Canyon fire, which was started when long-smoldering vegetation from a previous prescribed burn reignited.9 The wildfire burned 341,735 acres, including swathes of Santa Fe National Forest, and destroyed 220 structures. Below is a list of recent major wildfires in New Mexico.
Black Fire (2022)
Start Date: 5/13/2022
Location: Catron, Grant, and Sierra Counties
Acres Burned: 325,136
Cause: Under investigation
Cerro Pelado Fire (2022)
Start Date: 4/22/2022
Location: Sandoval County
Acres Burned: 45,605
Cause: Under investigation
Cooks Peak Fire (2022)
Start Date: 4/17/2022
Location: Mora and Colfax Counties
Acres Burned: 59,359
Cause: Human
McBride Fire (2022)10
Start Date: 4/12/2022
Location: Lincoln County
Acres Burned: 6,159
Cause: Human (under investigation)
Calf Canyon/Hermits Peak Fire (2022)11
Start Date: 4/6/2022
Location: San Miguel, Mora, and Taos Counties
Acres Burned: 341,735
Cause: Human (escaped prescribed burns merged April 22)
Johnson Fire (2021)
Start Date: 5/20/2021
Location: Grant and Catron Counties
Acres Burned: 88,918
Cause: Lightning
Three Rivers Fire (2021)12
Start Date: 4/26/2021
Location: Lincoln County
Acres Burned: 7,040
Cause: Unknown
Cub Fire (2020)
Start Date: 6/28/2020
Location: Catron County
Acres Burned: 25,950
Cause: Lightning
Vics Peak Fire (2020)13
Start Date: 6/15/2020
Location: Socorro County
Acres Burned: 14,624
Cause: Lightning
Farm Camp Fire (2020)
Start Date: 6/6/2020
Location: San Miguel County
Acres Burned: 22,872
Cause: Lightning
Pine Lodge Fire (2019)14
Start Date: 6/19/2019
Location: Lincoln County
Acres Burned: 15,044
Cause: Under Investigation
Ute Park Fire (2018)
Start Date: 5/31/2018
Location: Colfax County
Acres Burned: 36,740
Cause: Under investigation
Historical New Mexico Wildfire Trends
A 2022 study of thousands of ancient trees in Arizona and New Mexico found that the typical climate-fire pattern in the American Southwest from 1500 to 1900 had a few years of above-average rainfall, followed by a drought year. The drought year typically fueled large wildfires. However, in areas where Native American tribes used fire management practices—such as regular, controlled burns to clear combustible vegetation and encourage new growth—this climate-fire pattern was broken, and the size of wildfires was greatly reduced.15
New Mexico attracts tourists and new residents with its natural beauty but living within sight of the desert carries risks. Approximately 70% of the state's population (over 1.4 million people) live in the wildland-urban interface—residential areas near wildland.5 Many of these communities are not prepared for wildfires. In November 2021, the U.S. government signed the Bipartisan Infrastructure Law (BIL), which includes $8 billion to invest in forest/land management and $81 million in fuel reduction programs. The BIL also supports a grant program with $1 billion over 5 years to help communities and tribes create and implement wildfire risk mitigation plans.16 The New Mexico Forestry Division intends to use this grant program to help communities develop wildfire protection plans.
New Mexico Wildfire Resources
Utilize WFCA's Fire Map to search for the status of an active wildfire in New Mexico. Users can zoom in and select each individual fire to get instant access to the latest published information.
Sources
The New Mexico Museum of Natural History & Science, "New Mexico, Living Landscapes." Accessed June 5, 2023.
KRQE, "What you need to know about wildfire season in New Mexico." Accessed June 2, 2023.
NOAA National Centers for Environmental Information, "State Climate Summaries 2022: New Mexico." Accessed June 2, 2023.
AP News, "Record-setting wildfire in New Mexico declared contained." Accessed June 5, 2023.
Yahoo! News, "Climate change is why New Mexico's wildfire season started early this year." Accessed June 2, 2023.
Congressional Research Service, "Wildfire Statistics." Accessed February 15, 2023.
The New Mexico Energy, Minerals and Natural Resources Department's Forestry Division, "Protecting your home from wildfire." Accessed June 5, 2023.
Searchlight New Mexico, "The age of consequence: Wildfires in New Mexico." Accessed June 7, 2023.
NBC News, "A way of life is all but extinguished by New Mexico's largest wildfire." Accessed June 7, 2023.
Municipal Website of the Village of Ruidoso, NM, "McBride Fire 2022." Accessed June 2, 2023.
Albuquerque Journal, "New Mexico's largest wildfire: Devastation lingers one year since spark that lit Hermits Peak blaze." June 2, 2023.
New Mexico Fire Information, "Three Rivers Fire Update – May 13, 2021." Accessed June 2, 2023.
New Mexico Fire Information, "Weather Conditions Cooperate for Aerial Ignitions on Vics Peak Fire." Accessed June 2, 2023.
New Mexico Fire Information, "Pine Lodge Fire Final Update July 7, 2019." Accessed June 2, 2023.
Science Daily, "For 400 years, Indigenous tribes buffered climate's impact on wildfires in the American Southwest." Accessed May 31, 2023.
The White House, "Fact Sheet: The Biden-⁠Harris Administration Continues Efforts to Address Growing Wildfire Threat." Accessed May 8, 2023.
Related Article