Create Your Wildfire Evacuation Plan and Checklist
Published:September 13, 2022
Edited:November 8, 2023
Be prepared and learn how to create your wildfire evacuation plan and checklist with guidance and resources from the Western Fire Chiefs Association (WFCA).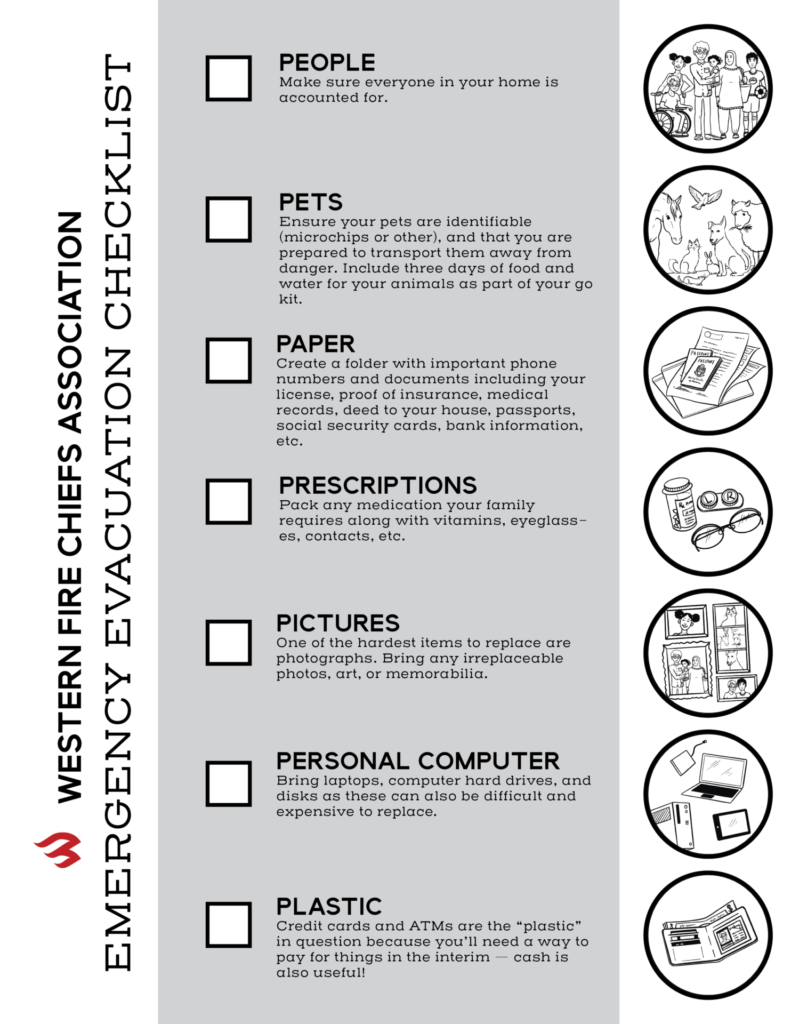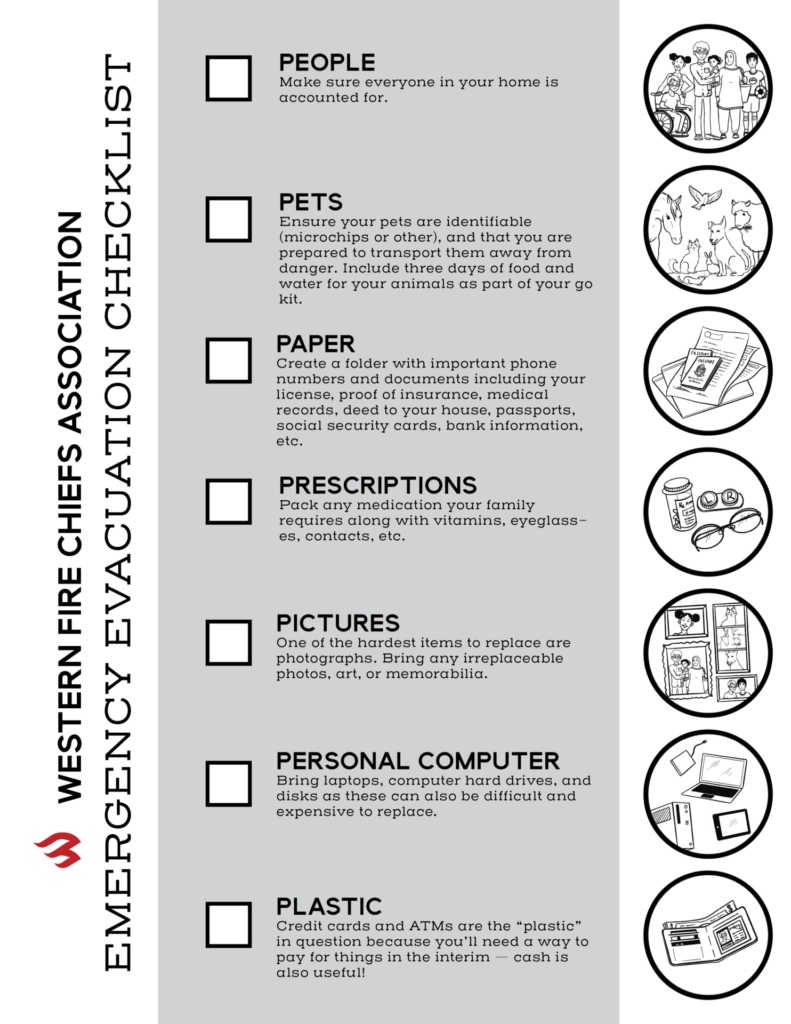 The months of June, July, and August are peak wildfire season in the United States.1 However, climate change is causing snow to melt earlier in the spring and rain to come later in the fall, leading to an extended period of high temperatures and dry weather. Longer dry seasons make fire an even greater risk.
If you live in one of the following fire-prone states, it is highly recommended that you create a wildfire evacuation plan and checklist:
Alaska
Idaho
Nevada
Oklahoma
Utah
Why it is Important to Be Prepared
Wildfires can burn rapidly at short notice. Your safety may depend on wildfire preparedness — having the proper knowledge about wildfires and understanding the different evacuation levels in case you must leave your home soon after a fire begins.
Below is a brief explanation of the three levels of evacuation. Knowing the actions associated with each level can help you make the best decisions for yourself and your family in the event of a wildfire.
Evacuation Basics: Levels of Evacuation
Level 1: Ready
Stay alert by following news updates on the internet, TV, or radio. There is a wildfire threat, and it could escalate. Have your wildfire evacuation kit ready to go.
Level 2: Set
A substantial threat is nearby. Keep monitoring local news and be prepared to leave your home at any moment. The conditions during Level 2 are unpredictable, and you may not get a warning if the situation intensifies rapidly. If you feel unsafe, do not hesitate to evacuate.
Level 3: Go – Now!
At Level 3, there is active and extreme danger in your area. Put your wildfire evacuation plan into action immediately.
You can read more in-depth information about the levels of evacuation in Wildfire Evacuation Levels Explained.
How to Create an Evacuation Plan
Below are the steps necessary to create a thorough and well-informed evacuation plan in case of an emergency.
1. Designate a Safe Meeting Location
Determine a meeting location outside of the hazard area whenever there is a wildfire. This allows you to quickly determine who has been safely evacuated.
2. Devise Different Escape Routes
Due to the wildfire itself, traffic, or road closures, you may need to use different escape routes when evacuating. Make sure you consider all options when creating an evacuation plan and include possible escape routes as a part of your wildfire evacuation kit.
3. Remember your Pets or Livestock
Evacuation is often chaotic. You must create a plan for pets or large animals like horses and other livestock. If at all possible, you should bring pets or livestock with you. Remember, if it is not safe for you to stay, then it is not safe for your animals either.
If you have exhausted all efforts to bring your animals, you should leave them in a pasture with the most distance between them and the fire. They should have enough hay and water for 48 to 72 hours. Do not leave them in a barn or holding pen.3
4. Designate a Point of Contact
When your family is involved in a natural disaster like a wildfire, it can be difficult to stay in contact. You may get separated or experience a loss of cell service. For this reason, you should designate a point of contact. This point of contact is an out-of-area friend or relative that is a single source of communication among all family members in case separation occurs.
5. Build a Wildfire Evacuation Kit
What will you need to have on hand if a wildfire occurs? What should you bring with you if you need to evacuate?
The worst time to decide this is during Level 1 or Level 2 of a wildfire in your area. Continue to the next section to start building your kit.
Create an Evacuation Kit
Part of having a wildfire evacuation plan is having an emergency kit you can take with you at a moment's notice. Here is what it should contain:
What to Bring
The Seven "P's"4
People: Make sure everyone in your home is accounted for.
Pets: Don't forget your furry friends! They're part of the family too. You can prepare them for evacuation by making sure they have microchips and ID collars well before a wildfire occurs. In your kit, you should also have leashes, medications, meal bowls, and a three-day stash of pet food and water.
Paper: Create a folder with important phone numbers and documents including your license, proof of insurance, medical records, deed to your house, passports, social security cards, bank information, etc.
Prescriptions: Pack any medication your family requires along with vitamins, eyeglasses, contacts, etc.
Pictures: One of the hardest items to replace are photographs. Bring any irreplaceable photos, art, or memorabilia.
Personal computer: Bring laptops, computer hard drives, and disks as these can also be difficult and expensive to replace.
Plastic: Credit cards are the "plastic" in question because you'll need a way to pay for things in the interim — cash is also useful!
Here are some additional items you'll want to add to your stash:
Fire extinguishers (check expiration dates regularly)
First aid kit
Portable radio
Water supply and snacks
Flashlight
Sturdy shoes
Wildfire Evacuation Checklists: Inside the Home
When you've hit Level 3 (or you no longer feel safe at Level 2), you should follow these steps to prevent property damage.
Shut windows and doors
Lock your house
Leave lights on
Shut off gas
Wrap electronics and furniture in sheets, blankets, or plastic drop cloths for extra protection
Wildfire Evacuation Checklists: Outside the Home
Close your garage door
Remove any flammable items from around the outside of your house and bring them inside
Bring in anything that isn't nailed down, such as trashcans, toys, garden equipment, or lawn furniture
Leave exterior lights on
Wildfire Evacuation Resources
If you are looking for additional resources for your wildfire evacuation plan, visit the sites below.
Ready.gov: A government site with information about wildfire preparedness and safety
Ready, Set, Go! The program provides free tools and resources for fire departments to use as they help residents gain an understanding of their wildland fire risk and actions individuals can take to reduce that risk.
FEMA app: An app that allows you to receive real-time updates from the National Weather Service
Red Cross Emergency app: This app provides a list of open emergency shelters that can give you a place to go in case you're evacuated swiftly.
Your local alerts: Each community will have local alerts that help keep you updated on wildfires. These typically require no sign-up.
Sources
Related Articles